Leading security company CrowdStrike has announced the launch of Charlotte AI, the World's First Cyber ​​Security AI Analyst, a generative AI analyst that leverages extensive cyber threat data and continuous feedback from industry experts in attack detection and response.
CrowdStrike's development of Charlotte AI involved training the model on a wealth of valuable information, including recent security events experienced by the company, data on threats from hacker groups and ongoing attacks, as well as telemetry from users, devices, and cloud workloads. Notably, the training data also included a comprehensive dataset highlighting the successful prevention of hacks by CrowdStrike employees worldwide.
Charlotte AI will be available to all users of the CrowdStrike Falcon platform, delivering invaluable insights into the threats and risks faced by organizations. For instance, a Chief Information Security Officer (CISO) preparing for a board meeting can rely on Charlotte AI to provide real-time information about the organization's risk profile, including the threat landscape, risk level in relation to critical vulnerabilities, current cybersecurity status, and more.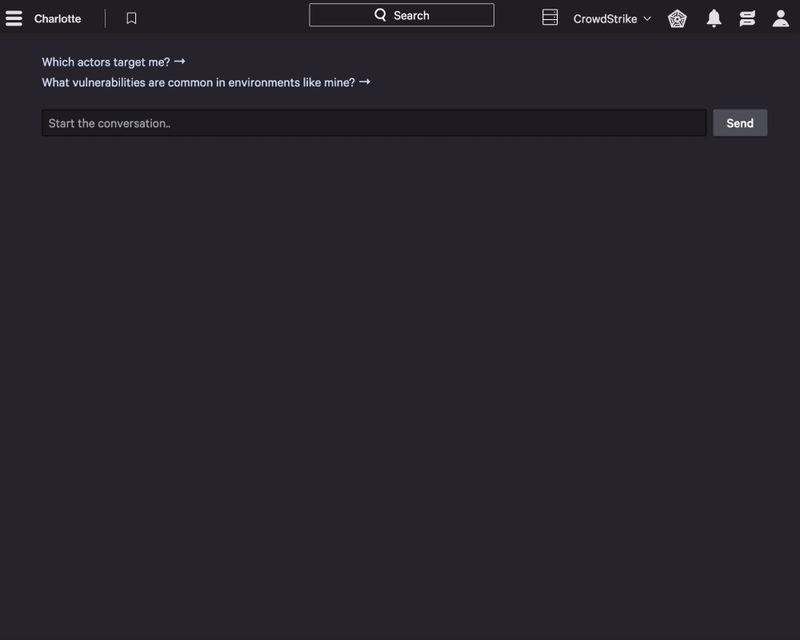 Even for less experienced IT and security professionals, Charlotte AI will prove invaluable in accelerating decision-making processes and reducing response times to critical incidents. The AI analyst will offer real-time answers and recommended actions, enabling swift and effective resolutions. In fact, Charlotte AI can assist new information security analysts by functioning as a more advanced analyst, providing simple yet vital insights into queries such as identifying hacker groups targeting the organization, critical vulnerabilities being exploited, exposure to the latest vulnerabilities, and comprehensive endpoint checks for indicators of compromise (IoCs).
For seasoned security experts, Charlotte AI automates repetitive and routine tasks, including data collection, threat detection, and searching, thus enabling them to focus on more complex security actions. The power of all CrowdStrike APIs can be harnessed simply through natural language queries, empowering professionals in detecting, investigating, and responding to attacks.
By harnessing the potential of generative AI, CrowdStrike believes that Charlotte AI can democratize information security, enabling novices to become professionals and existing experts to excel in their threat-hunting capabilities.