We already had Raspberry Pi 4, Raspberry Pi Zero, and even the wonderful Raspberry Pi 400, and now, the Raspberry Pi Foundation has decided to go one step further, launching a completely new product — a microcontroller, Raspberry Pi Pico.
Raspberry Pi Pico is a small system, which is not designed to run an operating system but to control electronic components, such as sensors, motors, or interfaces. It is similar to the Arduino Nano, which is popular in education and among hobbyists.
This is not just the first time that the Raspberry Pi has developed such a product. It is also the first time that they have created a product equipped with their own chip. The RP2040 is the first SoC created by Raspberry Pi Foundation for a simple reason — they claim that they looked for alternatives, but none were adapted to what they needed.
So they decided to design their own chip, a task that is not small but that represents the entry into a new world. Until now, Raspberry Pi boards have used third-party components.
The RP2040 has two ARM Cortex-M0+ cores, at a frequency of up to 133 Mhz. It comes with 264 kB of SRAM memory, plus 2 MB of internal storage. It was manufactured in 40 nm and fitted on a 7 x 7 mm die. The SRAM is also housed on it.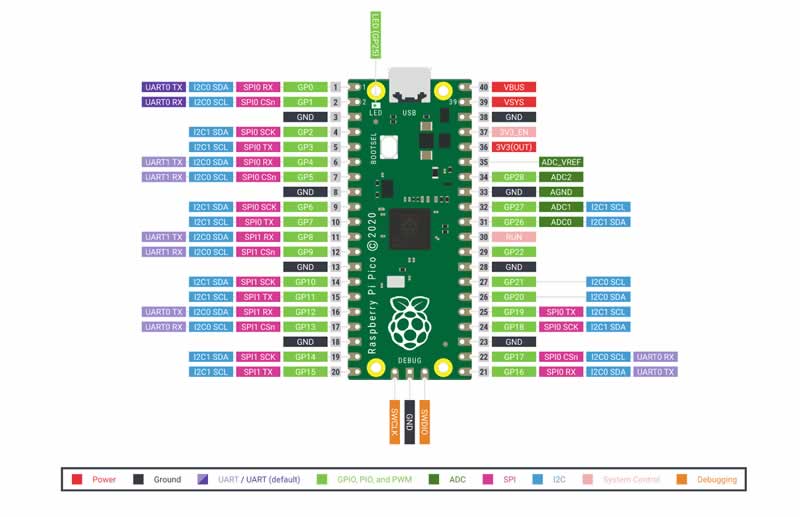 The microcontroller also has a GPIO interface with 26 holes. For example, it can be integrated into circuits on a breadboard with plug connections. There is also a 3-pin analog interface. A single switch is also installed on the circuit board, which can be used for USB mass storage mode or generally as an input device. A status LED is available for various status information.
The Pi Pico is tiny, and therefore can be included in all kinds of projects. It is aimed at both experts and beginners in this DIY. The Pico supports the programming languages ​​C and Micropython — both are popular for smaller and larger hardware projects. There is also a micropython port for the Thonny IDE integrated development environment. The Foundation has put a complete set of documentation on the Pico online.
And all this, for $4 — indeed, this is the cheapest model so far, and while it cannot be compared to a normal Raspberry Pi.