JavaScript remains on the top position when it comes to the list of most popular programming languages among developers, with Python and Java after it. 
These are the findings of SlashData's State of the Developer Nation Q3 2020 survey, in which more than 17,000 developers from 159 countries participated.
The survey includes the most popular programming languages, what the developers of open-source software and the adoption of DevOps practices think, and the use of popular cloud technologies such as containers and orchestration tools.
JavaScript, which includes CoffeeScript and Microsoft's TypeScript, has 12.4 million developers worldwide, a spike of 5 million new developers than it had in 2017.
SlashData ranked Python as the second-most-popular language. There are currently an estimated 9 million Python developers, about 800,000 more than there are Java developers worldwide. Despite its web and mobile weakness, Python has gained 2.2 million new developers in the last year — thanks to the take-off of technologies such as machine learning, data science, and Internet of Things apps. And, in general, to the rise of everything that does not have a user interface. At the same time, Java secured the third position in the ranking with 8.2 million active developers.
According to SlashData, C, C++, PHP, and C# ranked respective follow-up positions with developers numbering between 6 million and 6.3 million. Eighth and ninth on the list are respectively held by Kotlin, an Android development language backed by Google and with 2.8 million programmers: and Apple's Swift, with 2.3 million. Go, Ruby, Objective C, Rust, and Lua are behind, with between 1.5 and 0.8 million developers. In total, according to SlashData, there are about 21.3 million active software developers in the world.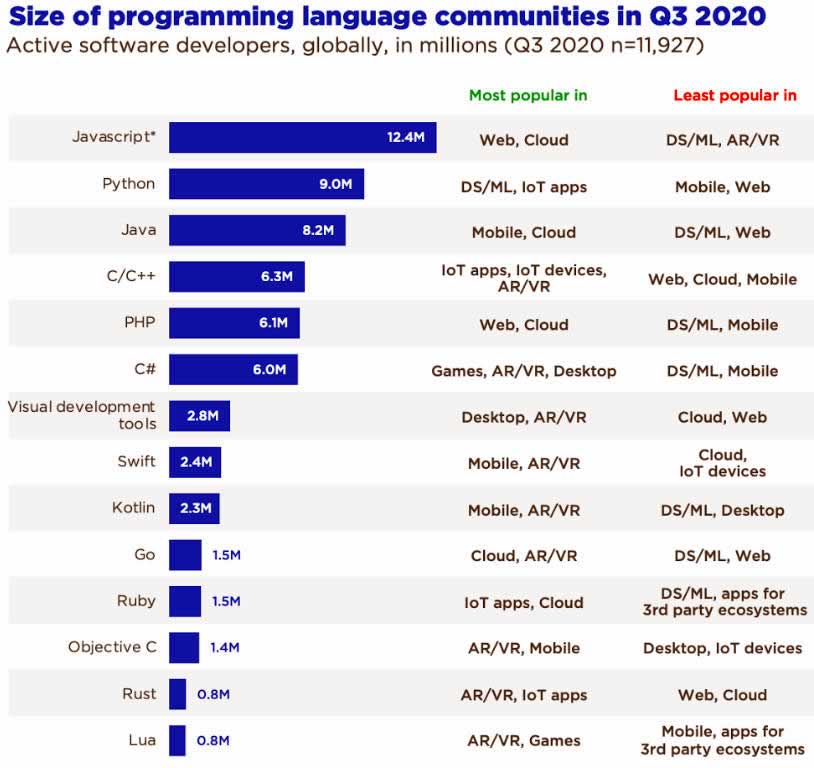 SlashData reports that about 60 percent of backend developers use containers, which makes this technology the most popular related to the cloud. The second most popular is the database as a service, which is used by 45 percent, from providers such as AWS, Oracle, IBM, Google, or MongoDB. Meanwhile, about 57 percent of backend developers who use a containerized orchestration application choose Kubernetes.
In terms of DevOps and its adoption, there are still 35 percent of developers who do not use their practices, compared to 40 percent who say they practice continuous integration (CI) and 37 percent who use deployment and continuous delivery (CD) — both being fundamental aspects of DevOps. . Additionally, SlashData recognizes that complete automation of the software release process is far from being a reality.